What is HyperSnap™?
HyperSnap is the fastest and easiest way to take screen captures from Windows screen and full screen games, and text capture (TextSnap™) from places where normal text copy is not possible. HyperSnap combines the power of a first-class screen capture application with an advanced image editing utility - wrapped into one easy-to-use tool!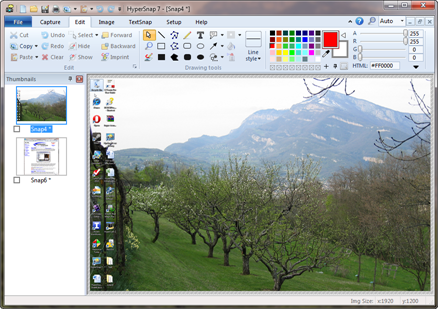 HyperSnap 7 on Windows 7 - click image to see in full size.
---
It's perfect for capturing images that you want to include in your Help system, online tutorials, manuals, training handouts, presentations, marketing materials, Web pages, emails and more. Captures screens from full-screen games using DirectX/Direct3D technology. Use HyperSnap to quickly share a picture-perfect representation of anything on your screen.
HyperSnap is versatile and extremely easy-to-use. You can switch between modern "ribbon" interface shown on the image above, or tranditional menu and toolbars.
HyperSnap v.7 is compatible with 32 bit and 64 bit releases of Windows 7, Vista, XP, and their corresponding Windows Server editions.
Top Features
New Enhancements
For a detailed list of enhancements in each new version see our Change Log. And note that with a purchase of HyperSnap version 7 license you get all future releases 7.xx, with any new features added to them, for FREE!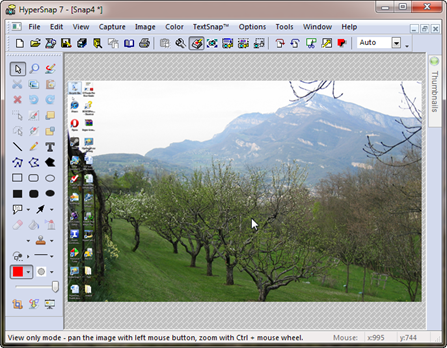 You can switch HyperSnap 7 to the old menu and toolbars interface.
System requirements
Any computer running Windows XP, 2003 Server, Vista, Windows 7, Windows Server 2008 (including R2) or newer, 32 bit and 64 bit releases. 100 MB of free disk space is needed to install the program (about 25 MB is actually used after the installation finishes).